Taibah International School is a private co-educational, non-denominational day and boarding school offering programmes for pre-primary, primary and secondary school-age children (4 – 18 years). TIS Secondary and Primary are located at Bwebajja on the Kampala -Entebbe highway, 14 Km from Kampala and 16Km from Entebbe International Airport. We are a non-selective school and as such, provide opportunities for students of all abilities to develop to their full potential and explore/discover their talents to the full.
Primary Section
At the Primary school, we offer pre-primary education for three-year groups. Our reception year group is Baby Class/Kindergarten 1 (or KG1) and the school policy stipulates that children joining this class should already be three (3) years of age or making three years before the month of May. The other year groups in the pre-primary section include Middle Class (KG2) for the four-year-olds and Top Class (KG3) for the five year olds. Class activities for Pre-Primary run from 7.30 am to 12.00 pm.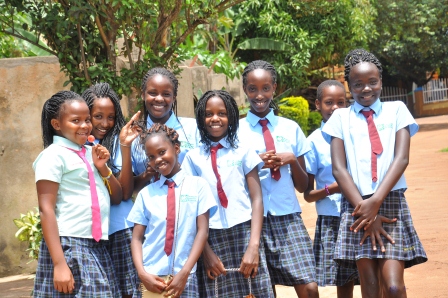 We mainly offer Day School facilities at this level. Our children join the primary school at six years of age.
We offer the Cambridge and UNEB curriculum at the Bwebajja (Entebbe Rd) campus and only UNEB at Taibah Junior School – Kawempe. Furthermore, we teach French, Swahili, social and moral education, life skills as well as suitable instruction for the child's religious faith. Music, physical education, sports (including swimming), traditional and modern dance, art, craft, and agriculture feature in our timetabled activities.
Secondary section

Facilities

Extracurricular

Gallery
Secondary Section
Taibah International School Secondary offers both the Ugandan (UNEB) examinations system working towards O' and A' Level qualifications and the Cambridge International curriculum (CIE). In addition, our students' work is extended to encourage them to develop skills in management, leadership, entrepreneurship and other vocational professions.
The school curriculum includes academic and vocational subjects in order to broaden the knowledge of our youngsters. Physical Education (PE) is compulsory for all. A' Level students attend classes in Literacy and Numeracy to improve writing and numeric skills respectively. At O' Level the curriculum is extended to include Drama and Music, which improve students' communication skills and appreciation of the Arts.
Facilities
Well-equipped and resourced classrooms and an improving school library support academic work. Information and Communication Technology (ICT) is employed across the curriculum in order to ensure that students achieve a high standard of computer literacy in different subjects.
TIS has modern laboratories equipped with the usual laboratory features such as gas taps, sinks and a large range of specialised practical equipment. students easily adopt a hands-on approach to understanding scientific procedures and principles.
Clubs
Also forming a major part of our curriculum are clubs activities in both the primary and secondary section. Clubs at the primary include among others; Boy Scouts, Girl Guides, media studies, wildlife, Red Cross, art, ballet and hockey. We also have cookery and computing (information communication technologies) clubs as part of our curriculum. some clubs at the Secondary section include Robotics, art, music, cookery, swimming, football, drama club, boy scouts and girl guides among others.
Sports
At TIS, the health and fitness of our students is paramount. Students are allowed to indulge in a sport of their choice at the end of a school day. We also have sports clubs; swimming club, football club and many more.
Both the primary and secondary section hold their annual sports day in the second term of the year, featuring uniquely picked sports games that enhance the students creativity, critical thinking and sports nature.